<![if !supportEmptyParas]> <![endif]>
Update Oct. 5, 2021
"Today is the last day of the rest of 2020.
Enjoy it"
---
******************************
"Yesterday is history, Tomorrow is a mystery, And today? today is a gift, That's why we call it the present." Babatunde Olatunji (I think)
---
Elaine Barber and I have a special project, recording some of our favorite songs for a musical advent calendar.
Information can be found here:
https://elainebarber.com/advent-calendar-2020
---
---
CDs are now unavailable through CD Baby
http://www.cdbaby.com/Search/YWxleCBjb2tl/0
there may be a few left.
Cadence North Country still has some, (Many Willem Breuker and other European CDS are listed here too)
http://db.cadencebuilding.com/searchresults/?description=ALEX%20COKE&offset_count=0
and of course at the performances WHENEVER THOSE RESUME
---
...in the meantime I will load a few links to some of the archived things I've been doing
Driveway Concert #27
Driveway Concert #27
Here is stream of the set we for the Austin Jazz Society's Project Saftey Net.
---
Dear Newsgroup Members,    
We have switched to IO newsgroups as a new way to send updates to you,  as Yahoo has discontined their Groups feature.  Meanwhile, adding the addresses alexcoke@xs4all.nl and alexcokemusic@sbcglobal.net to your address books should keep you in the loop with our news. Thanks to everyone who comes out to the gigs,  buys recordings, enjoys the music, and  comments via email and Twitter. We appreciate your support  and hope to see you soon!
---
UPCOMING GIGS:
Thursday, October 7, 2021
5:30-8pm
Central Market  North 
4001 N. Lamar Blvd.
Austin, TX 78756
  Pianist Peggy Stern  brings along a few friends to the Central Market patio for a swinging  early evening of music.
  Featuring
Peggy Stern piano
Alex Coke saxophones and flutes
Glenn Schuetz acoustic bass
Masumi Jones drums
  --------------------------------  
Sunday, October 12th, 2021
8:45am
First Presbyterian Church 
8001 Mesa Drive
Austin, Tx  78731
  Indoor/Livestream Worship
    •    Masks required.
LIVESTREAM from 
https://www.fpcaustin.org/stream
Archived at
 https://vimeo.com/fpcaustin
--------------------------------  
Wednesday October 20, 2021
7:30pm
KMFA's Draylen Mason Studio
41 NAVASOTA
AUSTIN  TX 
Tickets:
https://www.eventbrite.com/e/alex-coke-carl-michel-sextet-at-the-draylen-mason-studiokmfa-tickets-17927438350
  Guitarist Carl Michel and I have recorded a 6tet featuring:
Alex Coke/flute, bass flute, tenor saxophone
Carl Michel/guitar
Elaine Barber/harp
Bob Hoffnar/pedal steel
James Suter/bass
Carolyn Trowbridge/vibraphone  
There's an eclectic mix of compositions that include pieces by Paul Motian, Huddie Ledbetter, St. Hildegard, Carl and myself. We're looking forward to the upcoming concert at KMFA's Draylen Mason Studio
.   
We will have an open, general admission seating plan to allow for social distancing. Masks are required and all ages are welcome.  Presales are encouraged as seats are limited. Tickets are $20 or $35 with a CD. 
For more info and a video visit:
https://www.carlmichel.com/home/alex-coke-carl-michel-sextet/
--
For bookings/joining the newsgroup:
alexcokemusic@sbcglobal.net
Find the latest calendar updates on Twitter
_._,_._,_
_._,_._,_
Reeds & Deeds originated as a one-off happening dedicated to the music of Rahsaan Roland Kirk (August 7, 1935- December 5, 1977), a passionate and inventive improviser, who often played multiple saxophones at the same time.
Kirk was a gifted composer who wrote soulful, catchy themes. Renowned for his onstage vitality, where his virtuosic improvisation was accompanied by comic banter, political ranting, and the ability to play several instruments simultaneously, Kirk inspired many musicians in the US and The Netherlands, although his works are not often performed live.
Saxophonist Bo van de Graaff is a great admirer of the music, along with both Alex Coke and Frans Vermeerssen who had each previously released albums with Kirk's music. (Vermeerssen 1995 project resultied in his quintet's famous album One for Rahsaan and Coke was the featured soloist with Austin Jazz Workshop's 2009 Kirk program, performing more than100 live dates and recording Mystery Note). For a 2015 performance at the Bimhuis, Coke and van de Graaf assembled an all-star band with Vermeerssen, bassist Arjen Gorter, drummer Makki van Engelen and pianist Michiel Braam where the idea found an enthusiastic audience.
In the spirt of Rahsaan Roland Kirk's own Bright Moments! and in honour of a great American jazz musician, Reeds and Deeds, referring to an eponymous 1963 album recorded by Kirk, was born.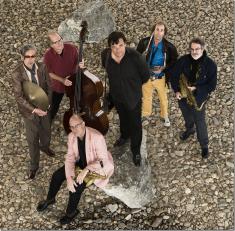 For bookings and more info about Reeds and Deeds :
+31 620 08 04 22(
email: muzyqq@gmail.com
More Information: http://https://www.youtube.com/watch?v=PSoXHqBZW60&ab_channel=MichelHolla
---
---------------------------------------------------------------
MoRe NEWs
The CD by Phola Mamba was availible at CD Baby.
http://www.cdbaby.com/cd/lebombo2
Jacko Schoonderwoerd is playing bass and Stéphane Puc is featured on the accordian.
As one might guess with the title "Not a Word", the songs on Glenn Fukunaga's 6 song EP are solely instrumental, but each and every instrument sings. As is to be expected from Austin's premiere bass player, bass is what drives these tracks, from the electric, to upright, fretless, and acoustic. With such expressive and melodic bass lines, you won't miss the standard guitar, though you may delight to find there's even a touch of Glenn's first instrument, the ukulele.
Though wordless, each track evokes a deep and powerful conversation between musician and listener. Whether telling the story of the dark side of the tourist-friendly Hawaiian luau, expressing a father's love for a lost son, commenting on the coming together of the human race, tipping a hat to Miles Davis or just plain having goofy fun, these jazz flavored soundscapes throw the usual musical rules out the window. You won't hear the typical walking bass lines - up to the 4 or down to the 6 minor that Glenn has played in hundreds of sessions before. Glenn allowed his fellow musicians, Joel Guzman on keys, Dony Wynn on drums and percussion, Alex Coke on woodwinds and Kevin Flatt on brass the freedom to add their voices to the conversation.
Recorded and mixed by Bradley Kopp at Red Boot Ranch Studio in Austin, TX, and mastered it by David Glasser from Airshow in Boulder, CO, "Not a Word" speaks in the universal language of music, and has a lot to say. If you sit back and listen with your eyes closed, you can't help but understand.
Read the Austin Jazz Alliance CD review at :
http://austinjazzalliance.org/cd-reviews/not-word-glen-fukunaga#overlay-context=node/115
474-2500
http://waterloorecords.com/Store
http://waterloorecords.com/Store
--------------------------------------
---
----------------------------------------
----------------------------------------
---
There's film about Abraham Inc at la Villette just posted to youtube. I was on this gig and it was smokin'!
http://www.youtube.com/watch?v=5lR7g7vtTJM
---
---
<![if !supportEmptyParas]> <![endif]>
Several reviews have came to my attention.
MUSIC
Alex Coke on listening and the possibility of sound
Austin jazz player makes new aural landscapes 'It's Possible'
By Brad Buchholz
AMERICAN-STATESMAN STAFF
Monday, October 06, 2008
While living in Amsterdam in the 1990s, Austin jazz musician Alex Coke was constantly pedaling around the city on his three-speed bicycle. But as much as he loved music, Coke could never understand why so many people on the street were plugged into Walkman players. What could be more beautiful, he thought, than the exotic music of the streets, the sounds of the city?
"It was the coolest thing, hearing everything with a Doppler effect as you moved along on the bike," says Coke, one of Texas' most distinguished flute and saxophone players. "You hear this kind of hissing as you move through the environment, along a busy street, past a canal. You hear a boat horn, a car horn, another bike bell, the snatch of a conversation. I just loved that. It's organized sound.
"You can make a case that it's art. Or that it isn't. But the experience is very John Cage, in that it makes you open up and hear things. To truly listen."
Coke's love of sound - and the exotic blending of sounds - is most evident on "It's Possible," a new album of acoustic improvisational music (on the Voxlox label) featuring Austin vocalist Tina Marsh and renowned African-style percussionist Steve Feld in duo and trio settings. Coke refers to it as an "art" record (as opposed to a "commercial" one), and for good reason. "It's Possible" colors way, way outside the lines in the way it blends world music textures with avant garde sensibilities, bounces back and forth between the literal and the abstract, accentuates the display of sounds as it eschews traditional soloing. And yes, it even allows Coke to crash a voice-and-flute party on one cut with his impressive array of whistles and squeaky toys.
"When (the Web site) CD Baby asked me to list a genre for 'It's Possible,' I said something like 'free improvised world music jazz - or something - with vocals,' " says Coke, who comes across like a hip and happy, free-thinking professor of creativity, his tousled hair streaked with gray. "I think the label they chose was 'jazz vocalese.' And that's kind of true, just as you wouldn't be wrong to call it small group jazz ... or avant garde jazz ... or atonal ... "
In many ways, "It's Possible" replicates the sensation of stepping off the bus in a foreign land where you are surrounded by a swirl of exotic sounds and cadences. It can be disorienting at first. But in time, you begin to recognize a certain beauty in that confluence of sounds and cadences, begin to appreciate certain patterns in them, or maybe find yourself humming to new music you hear in them — even while acknowledging that you don't always understand the sounds.
On the album's opening cut, Marsh sings lyrics improvised from Antonio Machado poetry as Feld creates loping, savannah-style soundscapes on a "bass box" - an African thumb piano that sometimes (as Townes Van Zandt might say) sounds like tuned "rain on a conga drum" or an exotic stand-up bass. Meanwhile, Coke plays swirling passages on flute that at certain moments suggest wildness and open sky. Then a new song comes - and things really get wild.
"It's Possible" often suggests climates, environments: wind, humidity, the buzz of insects, the moan of the earth, the human moan of Ornette Coleman's "Lonely Woman." Coke wanted a concise feeling to the 15 compositions; none is longer than five minutes. On several songs, the musicians improvise in the studio as they listen to environmental source material — say, the buzz of a rainforest or the call of frogs or a tolling bell. For the finished album, the original tapes of the frogs and forest have been removed, leaving only the three musicians (vocal, reed, percussion) playing together in a fashion that sometimes suggests free-jazz chamber music. "We've been working a lot, when the time comes to solo, on the idea that we play together — that we all solo together," says Coke, who is clearly fascinated by diminishing or reinterpreting the notion of "foreground" and "background" in jazz playing. "I'm trying not always to be in the foreground all the time, but to be a part of the music."
"It's Possible" ... but is it jazz? Maybe. Maybe not. It's certainly not bebop, or background music. Engaged listening is virtually required. "It's Possible" is in many respects its own musical art gallery — a sequence of installations or paintings that invite listeners to interact with it and project their own narratives onto it. It's hard to imagine all but three or four cuts (such as the exquisite "Secret Love," which presents the American standard beneath shimmering African starlight) standing a chance on most jazz or noncommercial stations; the strength of the album is in the whole of its vision. And for all its organic and acoustic soul, for all the play and puns within the music and on the CD cover, it will be for many an acquired taste.
"I'm not interested in being a preservation society," Coke likes to say, suggesting it's hard to honor the spirit of jazz by holding too fast to its tradition or in trying too hard to emulate its most popular formulas. "The tradition I'm trying to hold down is to express myself. John Coltrane was never a copy. Neither was Coleman Hawkins or Ben Webster or Ella Fitzgerald. All of them were expressing themselves, for better or for worse. Whether people like the music or not, there's really nothing else you can do."
bbuchholz@statesman.com;
<![if !supportEmptyParas]> <![endif]>
Bill Barton of KBCS has listed Austin Jazz Workshop Plays Rahsaan Roland Kirk: Mystery Note, AusJazz Music to his Top Ten list.
------------------
<![if !supportEmptyParas]> <![endif]>
HOME: NOVEMBER 27, 2009: MUSIC
| | | | |
| --- | --- | --- | --- |
| <![if !supportEmptyParas]> <![endif]> | <![if !supportEmptyParas]> <![endif]> | <![if !supportEmptyParas]> <![endif]> | <![if !supportEmptyParas]> <![endif]> |
Texas Platters
<![if !supportEmptyParas]> <![endif]>
<![if !supportEmptyParas]> <![endif]>
<![if !supportEmptyParas]> <![endif]>
<![if !supportEmptyParas]> <![endif]>
Jeff Lofton Quartet
Jazz to the People
Trumpeter Jeff Lofton hits the bull's-eye on this sterling local debut that digs a deep groove regardless of tempo. Since coming to Austin from South Carolina several years ago, Lofton has been omnipresent on the scene. Never bashful of his admiration for Miles Davis, he's crafted a sound largely around Davis' formative quintet of the late 1950s. It's a sound that embraces the blues and swings passionately whether riding herd on originals "Shana's Song" and "Mouth of Gabriel" or cozying up to chestnuts "Crazy" and "Georgia on My Mind." Lofton reinforces the Miles connection with the deft use of muted trumpet on soulful strutters "Headless Blues" and "A.I.M." Highlight "Herbie's Time" blows reminiscent of Lee Morgan's Blue Note hits of the mid-1960s. Reinforcement from underappreciated pianist Red Young, who's superb throughout, and always formidable local saxman Alex Coke help make this a delightfully swingin' affair.
<![if !supportEmptyParas]> <![endif]>
----------------
These from Downtown Music Gallery
Among the many pioneers on the Austin music scene, the Creative Opportunity Orchestra stands as one of the boldest and certainly the jazziest. Having involved more than 200 musicians over its 26 years, CO2 dared to cross the unknown frontiers of avant-garde jazz and improvisational music. Led by Texas Hall of Fame vocalist Tina Marsh, whose singing has been called "scat to the highest power," CO2 set out to break free of the pressures of commercial nightclub performance and explore composition and improvisation possibilities in a large-group format.
"Over the past few years, I've been getting promo discs from Tina Marsh and Alex Coke and realizing that there is yet another under-recognized scene in Texas that we all should know about. Tina Marsh and her CO2 Orchestra played at Roulette last week (10/3/08) word is that they were pretty amazing. Thanks to our friend, Diane Moser, Tina was kind enough to leave us with the three gems listed below. Time to dig in..."
>ALEX COKE/TINA MARSH/STEVE FELD - It's Possible (VoxLox 308; USA) Featuring Alex Coke on flutes, tenor sax & toys, Tina Marsh on voice & toys and Steve Feld on ashiwa bass box & more toys. Alex Coke was once a member of the Willem Breuker Kollektiev, but now lives in Austin, Texas, as does out/jazz vocal legend, Tina Marsh. The trio composed most of the pieces on this disc with covers by Ornette Coleman, Charles Mingus plus a couple of standards. The title piece features the lovely, dreamy voice of Tina backed by magical thumb piano. "Frogs" features Alex's quietly twisted tenor with Tina's sublime scat vocals and more mesmerizing thumb piano. Ornette's classic gem, "Lonely Woman" features Alex's haunting flute and Tina's most hypnotic voice. The "Steve Lacy Suite" features more subtle vocal sounds, quiet fractured flute and delicate percussion. Alex's flute is extremely expressive and he is perhaps one of the finest flutists I've heard in years. Mingus' "Eclipse" features some strange Eastern reed instrument (a kaen?) along with Tina's poignant voice. At times it sounds as if Tina is singing in some invented language while still sounding completely natural or organic and always expressing her emotions effortlessly. "Deep River" sounds like a gospel song and Tina sings it just right with her lone voice and minimal percussion. What I dig most about this disc is that this trio uses minimal instrumentation and vocals to express so much. This sounds like one of delightful late night listening gems that we can warm up to with some fine cognac. - BLG
>TINA MARSH & CO2 - The Heaven Line (Creop 02; USA) Much in the same way that the finest classical composers of the 20th Century have been Russian, some of the finest big band leaders and arrangers of the last 50 years have been women. There is plenty of evidence to back up this statement. I submit: Mary Lou Williams, Maria Schneider, Carla Bley, Toshiko Akyoshi, Melba Liston.... Risking sexism, I find the compositions, arrangements and performances by women directed big bands to be more carefully thoughtful than that of their male counterparts. Granted music is music regardless of source; it would simply be naive to believe that nature has no effect. Tina Marsh, leader of the Texas-based Creative Opportunity Orchestra (CO2) is a case in point. Her arrangements and compositions are tamer than Sam River's Rivbea Big Band without being as stiff and didactic as Wynton Marsalis' LCJO. This characterizes the overall sound. Touted as "cutting edge mainstream", I prefer to consider her music as progressive big band, a kind of marriage between the avant-garde and postmodern classical. Marsh, like Bley, favors low brass in assembly and solos. She uses her voice in a creative Meredith Monk sort of way that is not unattractive. These two discs are populated by mostly original extended compositions by Marsh and various band members. The music is refreshing and interesting and off the beaten path. - C. Michael Bailey / All About Jazz
ALEX COKE - New Texas Swing (Creop 10; USA) Featuring Alex Coke on saxes & flutes, Tina Marsh on voice, Arjen Gorter on bass and John Betsch on drums. This gem was recorded at the Bimhuis in Amsterdam in March of 1999. Both Alex Coke and Arjen Gorter have played with the Willem Breuker Kollectiev, while Paris-based drummer, John Betsch, was Steve Lacy's drummer of choice for many years during the 70's and 80's. Both jazz vocal sorceress, Tina Marsh and Alex Coke currently live in Austin, Texas. This was recorded at the Bimhuis in Amsterdam, often the home for the Breuker Kollectiev and the ICP Orchestra. This fine international quartet cover an eclectic mix of songs by Ornette Coleman, Charlie Haden, Huddie Ledbetter and David "Fathead" Newman, as well as a couple of original songs. Ornette's "Round Trip" opens this disc with Alex's tenor and Tina's fine voice harmonizing the theme superbly while the rhythm team spins magically around them. Alex switched to flute for the next section and takes an incredible solo while Arjen's bass pumps powerfully underneath. Both songs by Leadbelly are done in a righteous, gospel-sounding like way. When Tina's voice and Alex's sax or flute share the same note, they cast a magic spell, complimenting each other perfectly. They cover a song by another great Texan, David "Fathead" Newman and again, Alex takes a phenomenal flute solo. I am not sure if this rhythm team have ever toured or even played together previously, but they sound marvelous as they swirl tightly around the sax or flute and voice. One of the things that knocks me out about this quartet is that the vocals are an integral part and never take over. All of the material here is well chosen so that the entire quartet is always as one spirit. I must admit that I do appreciate but rarely listen to "jazz" vocals, yet here I find Tina Marsh's singing to be consistently captivating throughout. It also helps that she is a member of an extraordinary quartet that works together perfectly around and with her. - BLG
One at All About Jazz
http://www.allaboutjazz.com/php/news.php?id=23166
Alex Coke on listening and the possibility of sound
Alex Coke on listening and the possibility of sound. Austin jazz player makes new aural landscapes 'It's Possible'. By Brad Buchholz ..
The Houston Examiner
http://www.examiner.com/r-2269523~CD_DOWNLOAD_ALBUM__Alex_Coke_s__Its_Possible_.html
Our own Austin Chronicle thanks to longtime supporter Jay Tractenberg.
http://www.austinchronicle.com/gyrobase/Issue/review?oid=oid%3A674409
Texas Platters
Jazz Sides
BY JAY TRACHTENBERG
The new collaborative album from veteran Austin compadres Alex Coke, Tina Marsh, and Steve Feld, It's Possible (Voxlox), is fearless in its vision and certainly not for novices. Portions of this challenging set of improvised music are reminiscent of abstract sound collages from Chicago AACM pioneer Roscoe Mitchell, but reedman Coke and vocalist Marsh, who have dialogued musically for years and developed an intimate language, landmark recognizable touchstones ­ Ornette Coleman's "Lonely Woman," Charles Mingus' "Eclipse," and Harry T. Burleigh's "Deep River" ­ to which they give their own unique spin. Their duos are augmented subtly by Feld's melodic and percussive ashiwa bass box, the four-tune medley "Steve Lacy Suite" a fitting tribute to an improvisational master and mentor.
"It's Possible" (Voxlox 308) is now available locally at Waterloo Records. It is also available at CD baby. You can order direct at:
http://cdbaby.com/cd/cokealex08
The CD features Steve Feld, Tina Marsh and yours truly in various groupings doing mostly original compositions combined with a few covers of traditional tunes. The title, It's Possible, is the opening cut which is based on a poem by Antonio Machado. Rock Savage has designed the cool, paint by number cover art.
<![if !supportEmptyParas]> <![endif]>
TWINK RECORDS has re-released JAMAD on CD. This is a recording of the popular band featuring, James Polk, Alex Coke, Martin Banks, A.D. Mannion and David Morgan that was originally released on cassette tape and has long been unavailable. Contact Dr. Polk or myself for copies.
Check out the VoxLox label website, voxlox.net, for information on new recordings and DVDs!
The Willem Breuker Kollektief has released a new CD. I play on the 1st cut.
http://www.xs4all.nl/~wbk/BV_cat_list.html#0407
BVHAAST 0407
Willem Breuker Kollektief
FIDGET
Vera Beths - violin
Koor Nieuwe Muziek / New Music Choir
1. Willem Breuker: New Pillars (in the Field of Art) December 1991 14'05" 
Willem Breuker (soprano saxophone)
Andre Goudbeek (alto saxophone)
Alex Coke (flute, tenor saxophone)
Peter Barkema (tenor saxophone)
Andy Altenfelder (trumpet)
Boy Raaymakers (trumpet)
Gregg Moore (trombone)
Bernard Hunnekink (trombone)
Henk de Jonge (piano)
Arjen Gorter (bass)
Rob Verdurmen (drums)
Soloists: Arjen Gorter, Peter Barkema, Willem Breuker, plus Kollektief
improvisation
<![if !supportEmptyParas]> <![endif]>
I am also playing on the new DVD
WILLEM BREUKER
A full disc of Willem Breuker:
History and Discography
TWO OBOE CONCERTOS FOR HAN DE VRIES
http://www.swaanprodukties.com/eFilesHoboconcert.html
<![if !supportEmptyParas]> <![endif]>
The unorthodox composer Willem Breuker has written two striking, very
different oboe concertos for Han de Vries.
Oboe concerto no. 1 Han de Vries is a typical solo concerto. Apart from a
cadenza and improvisations for the solo oboist, the piece also offers ad lib
room for improvisations by members of the orchestra.
<![if !supportEmptyParas]> <![endif]>
The Topographies of the Dark cd has been released as a soundtrack CD for an art catalog and some exhibit
spaces for Virginia Ryan. http://www.virginiaryan.com/
<![if !supportEmptyParas]> <![endif]>
Recording projects with Michael J. Smith and the NOISE-TET are in various
stages of release.
<![if !supportEmptyParas]> <![endif]>
<![if !supportEmptyParas]> <![endif]>